In early July 2019, a meaningful project called "NVB Volunteer Road" was officially put into use in Nghia Phuc commune, Tan Ky district, Nghe An province. This project was invested by N&V Bridge Co., Ltd. with an amount of 1.5 billion.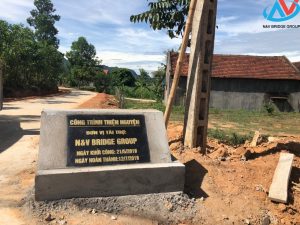 The NVB road in Hong Ky hamlet, Nghia Phuc commune, Tan Ky district, Nghe An province is a red dirt road, a place for frequent travel by local people. However, according to local people, in recent years, traveling through this route has encountered many difficulties, especially in the rainy season. This is the main traffic route but the weather is dusty but when it rains, it is very muddy, the vehicles are slippery, students are very miserable.
Understanding this situation through a business trip, Mr. Nguyen Vo Huyen Duong – General Director of N&V Bridge Group decided to invest in building a road named NVB to help local people. He said: "Looking at the people walking through the road in the hamlet of Hong Ky on rainy days, I love them so much. And N&V Bridge Group invests 1.5 billion to help people here to have a new and more spacious road, making traveling easier on both sunny and rainy days."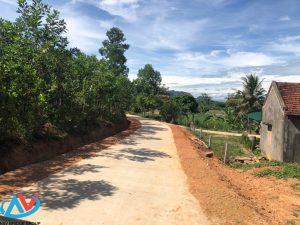 After nearly 2 months of construction (from May to July 2019), NVB road has been officially put into use. This project opens a new page for local residents in Hong Ky in particular and Nghe An province in general, making it easier for people to travel.
Besides business activities, N&V Bridge Group also promotes charitable activities, contributing to building a better society. In the future, N&V Bridge will certainly help more difficult rural areas on the S-shaped strip of land.
---